Covid-19 brings about an abrupt change in the way people work, and health & wellness has become a hot topic. Consumer demand for a holistic approach to healthy living is booming.
There is no better time to look into the health and wellness industry than now.
Today, we're taking a look at one of the seasoned players – Trivita. is Trivita a legit opportunity, or is it just a scam that you should avoid?
Fret not. I have done the research and compiled my findings into this in-depth Trivita review. The goal here is to create a review so thorough that there would not be a need for you to ever look at another Trivita review.
In this review, we'll focus more on the "business opportunity" part of Trivita. For those of you who have been following my website, you'll know that I always go deep below the surface to get you everything you need to know about any online money-making opportunity.
Honest, unbiased reviews – that is what you will find here.
And if you'd like to see an alternative, honest, and legitimate platform to start earning money online, then please click here.
---
Trivita Summary
Product Name: Trivita
Website: www.trivita.com
Founder: Michael R. Ellison
Product Type: Health and Wellness
Price: Free
Best For: MLM marketers
Summary: Based in Arizona and founded in 1999, Trivita offers a decent range of nutritional supplements that claim to support healthy ageing, performance, energy, and to address other health concerns. Its flagship product is Nopalea, a nutritional drink made from prickly pear cactus that supplies antioxidants to support detoxification of the body and to promote healthy inflammation.
Trivita's business model is a hybrid of affiliate marketing and traditional MLM, which is good for people who are not comfortable with face-to-face selling.

Overall Ranking: 5/10
Recommend: Yes and No
---
What Is Trivita

Trivita is a direct selling company specialising in health and wellness products. It is headquartered in Scottsdale, Arizona with a branch office in Canada.
It all started in 1999 when the company was founded by Michael R. Ellison, with the vision of providing people with the resources and inspiration needed to create lasting wellness.

After travelling the world in his early twenties and seeing the abject poverty of the body and spirit of millions of people, he founded Ellison Media Company in 1971, specializing in humanitarian and Christian media conducting services in over 100 countries.
"We have an amazing body, and when it's given the right balance of nutrients and nurturing, it can release the healing power within to optimize wellness"
His mission became crystal clear when he experienced a personal health crisis at the age of 50. As he recovered and found his way back to health, he became determined to share his message of wellness with others. This led to his founding of TriVita in 1999.
He did not want the "quick-fix" mentality of many companies… instead he sought out and provided real solutions for real people. Michael's vision has become a reality. His desire to give people more than they could ever imagine is evident in every aspect of this company. From the ongoing support, he provides his independent distributors with the unique product formulations he created to provide maximum nutrition and minimum waste,
Not settled for a traditional retail route, Trivita decided on a networking marketing business structure for their sales and distributors.
What this means is that not only you can have the opportunity to join in on their business opportunity by becoming a distributor.
Overall, this company works the same way as these MLM companies:
If you are interested to find out more about the background of Trivita, here is a brief introduction to Trivita by Michael Ellison. He explains how Trivita started and the motivation behind it.
Product Line
Before we take the plunge, it's important to familiarise ourselves with the product line Trivita has to offer.
Trivita has a decent size of the product line that falls into the following 5 categories:
– Healthy Aging
– Targeted Nutrition
– Herbal Supplements
– Performance
– Savings Packs
After combing through their site and doing some research,  I handpicked a few of their flagship products to highlight here:
Nopalea ($34.99)
A nutrient-dense drink that is made from prickly pear cactus. It is hailed to contain lots of antioxidants that support detoxification of the body and promote healthy inflammation.
Slow Dissolve Super B-12 ($24.99)
Vitamin B-12 is vital for metabolism. This vitamin complex comes in tablets form and is specially formulated with ginseng. It also offers 3 times the Vitamin B-12 to support vital functions like breathing, blood circulation, digestion, and keep our brain and nerves functioning well.
Vital C ($19.99)
Vitamin C is an antioxidant that helps block damages caused by "free radicals.". Our bodies can't produce Vitamin C, so it is important that we get enough by eating lots of fruits and vegetables, and by taking supplements. Trivita Vital C comes in the form of tablets and powder. The powder form (fast-release) is meant for day use and tablets (slow-release) for the night. Both powder and tablets are easy to digest and gentle on the stomach. This provides the body with a stronger immune system and higher energy amount thanks to its rich dosage of Vitamin C.
These are just the main highlights, but there are more products under the Trivita brand. If you are interested in the full product range you can find them at the Trivita Product Catalogue.
How To Make Money With Trivita
Unlike many other MLM companies, Trivita works like a hybrid between affiliate marketing and MLM.
In other words, you make money by referring others to purchase the product. Here's how it works:
1. You earn 40% when someone you refer buys through your referral link for the first time. This is paid weekly.
2. Subsequently, you earn a 20% residual commission from every product your customer purchases forever. This is paid monthly.

As I have mentioned earlier, their business model works like affiliate marketing – you promote your personalised referral link and if someone makes a purchase through your link, you will get a cut from their order. Personally, I find this approach more appealing than the traditional MLM – no hard selling or face-to-face pitching, which means you can work from the comfort of home.
To help you get started promoting your opportunity here is a free course to guide you along.

Cost To Join Trivita
Surprisingly, this MLM is free to join!
No starter package, no membership fee, no autoship… this is a rather rare find among the MLM companies. Anyone can start promoting Trivita products without paying any ridiculous fees.
To sum up, there are 2 ways for you to be part of Trivita:
Regular Member (Free)
To become a member of Trivita, you only have to make a purchase of a product, as simple as that.

Affiliate Member (Free)
Simply create an account with Trivita and sign up as an affiliate. As a Trivita affiliate member, you will get your own personal Trivita website where you can direct customers to purchase products. You will also get access to the company's social media promotional content (infographics, videos blog posts etc) that you can share online. All these are meant to give you a good head start and make it easy to keep track of your sales.
However, there is something worth mentioning…
Monthly Fee

In order to earn a commission selling Trivita, you will have to accumulate 50 PV per month. That's equivalent to around $50 worth of product.
I would say this amount is pretty decent as compared to other MLM companies like Bonvera, which requires a $100+ monthly autoship.
Such an amount is rather manageable, even if one failed to make a single sale in a particular month, he only has to budget in $50 expenditure to make a purchase of Trivita products himself. After all, if you are selling Trivita products it only makes sense that you are using their products yourself.
So let's do the math, $50 per month adds up to $600 a year, which is within the means of most people.
Just remember we to factor in additional costs such as ad placement, postage and packaging costs etc.
Trivita Compensation Plan
Unlike many other MLM companies with the complicated compensation plan, Trivita's compensation plan is pretty straightforward.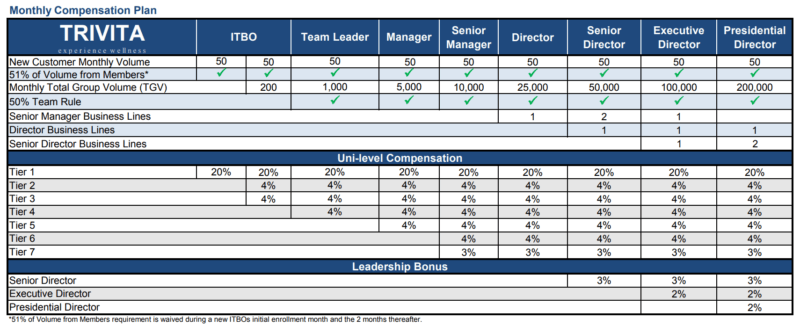 Trivita works on a unilevel compensation plan, placing you as a distributor at the top of a unilevel team, with every personally recruited distributor placed directly under you (Level 1). When a level 1 distributor recruits new downlines, they are placed on your level 2 unilevel team; when a level 2 distributor recruits new downlines, they are placed on your level 3 unilevel team, the process goes on infinitely.
There are several ways Trivita claims you can get paid:
Weekly Bonus Plan / Income Accelerator Weekly Bonus
The payout is based on the sales you and your affiliates generate within the 60-day period.
First Sales bonus: 40% commission on sales.
Team Builder bonus: 10% commission bonus.
Co-op bonus: 40% commission.
Monthly Total Group Compensation
This payout is based on the total sales made by your team after 60 days of enrollment, it goes down to the 7th level deep.
Level 1: 20% commissions
Levels 2 to 6: 4% commissions
Level 7: 3% commissions
Monthly Leadership bonus
This payout is for those who have advanced in Trivita rank:
Senior Director: 3%
Executive Director: 2-3%
Presidential Director: 2-3%
Rank Advancement Bonus Program
Team Leader ($150)
Meet minimum 50 Monthly Volume on new customers and 1,000 monthly Total Group Volume.
Manager ($500)
Meet minimum 50 Monthly Volume on new customers and 5,000 monthly Total Group Volume.
Senior Manager ($1,000)
Meet minimum 50 Monthly Volume on new customers and 10,000 monthly Total Group Volume.
Director: Receives $2,500; must have 50 Monthly Volume on new customers, 25,000 monthly Total Group Volume; and with1 Senior Manager in the team.
The Rank Advancement Bonus Program can be summarised as follow:
Don't worry if you cannot figure out how does the compensation works, such structures are common among MLM companies. They cannot reward members directly for recruitment, as this will give rise to suspicion for pyramid schemes (more about this later). So instead, they offer rewards when your downlines achieve a certain sales volume. That's to encourage you to recruit and build up your team.
The various levels of rewards and dealerships also serve as a way to make the whole scheme look enticing and exciting. They make it looks like career advancement is great with many ways for you to make money.
To make things easy, just remember, the two most important thing to keep in mind when joining an MLM company is :
1. Sell the products
2. Recruit downline
Is Trivita Pyramid Scheme
Despite some critics labelling Trivita as a pyramid scheme, personally, I don't think so. First off, Trivita have some real products to offer. Their main focus is not on recruiting as they recommend people to become customer-first (In other words, it's product-oriented!). Also, you don't get paid by recruiting people. You get paid when there's a product being sold.
 

What Is A Pyramid Scheme?

According to Wikipedia, a pyramid scheme is a business model that recruits members via a promise of payments or services for enrolling others into the scheme, rather than supplying investments or sale of products.

As the recruitment progress, the structure soon becomes unsustainable due to the sheer amount of new recruitments needed to take place.  There simply aren't enough people to maintain the structure of the pyramid. As such, pyramid schemes are doomed to collapse and are deemed illegal by many countries around the world.

Due to the nature of MLM, there is a fuzzy line between MLM and pyramid scheme. Avoid any MLM that overemphasise recruitment rather than selling the actual product. Legitimate MLM is focused on the product itself, not recruitment.

 
What I Like About Trivita

1. Proven Track Of Record
Founded in 1999, they have passed the 20-year mark. It is a known fact that very few MLM companies actually make it to the five-year mark. Trivita surely has its unique selling point that makes its business sustainable.
Trivita has registered with all the necessary agencies to make sure that the business operation they are running is legal and that the quality of their products is not compromised.
2. Quality Products With Satisfaction Guarantee
Trivita takes pride in its products. They developed values and principles that help them to build a strong foundation for their organization and to ensure that they continue to grow and improve.
Trivita supplements are developed with scientifically validated formulas and designed for better absorption and effect. Their signature products undergo medical studies and trials at accredited university medical centres and laboratories to ensure their effectiveness.
In addition to their in-house quality control, they also engage third-party testing and research to ensure that our products are full potency and meet all regulatory standards.
And on top of that, Trivita promises to provide the best customer experience possible. They proudly provide a 60-Day Money-Back Guarantee on all of their products
3. BBB Rating
It is impressive for a company to achieve A+rating from the Better Business Bureau (BBB), not many companies are able to achieve that not to mention maintaining the grading.
Trivita has been accredited A+ rating, which goes to show the credibility of the company in terms of good customer resolution and support system.
4. Integrate Technology Into Their Marketing Effort
I am not knocking it, there is something powerful about face to face selling – looking at your prospects in the eyes, observing their body language as you pitch etc.
However, with this pandemic going on, and the busy lifestyle that we have, most people starting to shun away from this practice. You can spend an hour pitching only to have people tell you 'I will think about it', but never really get back. It is an inefficient and time-consuming way of building a business.
Good thing that Trivita is integrating affiliate marketing into its business model. It allows you to use technology to generate leads from the comfort of your own home. You get to have your personal website which you can drive traffic to.
If you are interested in network marketing, a combination of both strategies is what I suggest. The more avenues you explore, the more chances of winning!
To help you get started promoting your links here is a free course to guide you along.
What I Don't Like About Trivita
1. Recruit, Recruit, Recruit…
Now, I am not saying that they're a pyramid scheme. The difference between this company and a pyramid scheme is that Trivita has products to sell.
However, their compensation plan has you recruiting a lot of people to get higher bonuses and commissions as opposed to just generating team retail sales.
In another word, success hinges not only on your ability to sell the products but also on the performance of your downline.
After all, no matter how hard they try to make this looks like affiliate marketing, Trivita is still an MLM at the core.
2. No Income Disclosures
Any business venture involves risk. Before getting yourself involved, it is always best to exercise caution. Do your research and look for numbers on your odds for success. The hard numbers will show you whether to say yes or run for the hills.
As long as you understand the risk and can afford it, that's fine. But of course, never start a business where the odds of success are better at a Vegas slot machine – that's common sense.
So here comes the problem, Trivita is not a public listed company, and they do not release any income disclosure statement. Without income disclosure, we can't do our math and can only make our wild guesses on the income potential. It is true that Trivita has a lower monthly sales requirement, therefore reducing your chance of losing too much money. However joining an MLM should be more about the earning potential rather than the sunk cost, right?
3. You Have to Pay in Order to Receive Commission
To remain active as a Trivita affiliate and receive a commission from Trivita, you need to purchase or sell a certain amount of products every month to accumulate enough points.
It's 50 PV (around $50) every month, not really hard to achieve but if you fail to maintain the points, you won't be able to receive a commission if any.
In other words, you have to pay to get paid, it's that straightforward.
4. Turn Distributors Into Customers
This is a secret they don't want you to know.
Where do all the revenue of all these multi-million networking companies come from?
You will be surprised, in many networking companies, the bottom-ranked distributors are the ones supporting the financial weight of the company.
Your monthly auto ships, the sales target to meet, another rank or level to conquer – all these just to get you hooked up until you willingly pay to promote its products, pay to get into the game, even before you start to earn any money.
5. No Early Bird Advantage
Timing is one of the key factors to your success in the MLM business.
To establish yourself in the MLM industry, you need to get onboard the right company at the right time. Too late and you will miss the golden period for growth that the early adopters enjoy.
There are many advantages of joining an MLM early on. For example, during the early stage, there is a mystique surrounding the opportunity because not many people have come to know about it yet. It is an exciting time to get involved!
While it is still possible for you to make it big later on, you will have to work much harder than you would have if you had joined early on.
6. Lawsuit
FTC announced a lawsuit with Trivita in 2014, due to its claim that one of its products – Nopalea, can significantly reduce or eliminate the effects of inflammation on the body. As a result of the settlement, Trivita has agreed to pay a $3.5M fine, a refrain implying that its product can be used in the treatment of any disease.
---
Are You Cut Out For Personal Selling? It Is Not For Everyone…
I got my leads every day without hard-selling.
---
Can You Really Make Money With Trivita?
Overall, Trivita sounds like a good MLM company to work with. It is still growing strong even after 20 years in business and has maintained an overall good reputation all along.
Trivita combines old school face-to-face selling methods with the online referral program that allows you to use Internet marketing as a business building tool. For those who are not a fan of face-to-face selling, an online referral program can be a game-changer. You simply need to learn how to drive traffic to your referral link, and your business is set to go. Here is a free course that I find helpful.
I know MLMs are a tempting model because the startup cost is so low compared to many legitimate businesses. But we also have to keep in mind that due to the pyramid structure of network marketing, recruiters can earn from both their own sales and the sales of their downlines. Naturally, it rewards those at the top.
A common issue with MLM is that, in order to continue receiving commission from your downline, you have to keep on working, otherwise, you will lose the earnings of your current rank, or even the right to sell.
If passive income is what you are looking for, then this is probably not what you are hoping for.
It is easy to see how things can get complicated quickly – juggling between sales, and management of your team. It is by no mean an easy task. Far too often, I have seen many people get involved in MLM thinking that they can just get a few recruits and then sit back collecting money – now we know that it is far from the truth!
How I Make Passive Income Online
After reviewing 200+ business opportunities and systems out there, Trivita is the one I consider worth a try as long as you are aware of the business risks involved.
In my honest opinion, the best reason for joining any MLM company is when you really love a product, and you want to get your cost covered while making extra money.
If making money is your only reason for joining, forget about it. Losing friends, wasting time and energy is not going to make it worth the money you make. And the worst part, you are still technically 'employed', you build up nothing for yourself at all. If one day the company get busted, the downline that you have spent so much building will be gone in an instant too.
If you want to create an online business and learn how to make a full-time income, keep on reading because I have good news for you.
All these success stories you have read above come from applying one proven system.
There is no need for inventory, product creation, management of a team, or tapping into your personal network and proposition them to become your prospects. If it sounds good to you, find out more about this system here or click on the blue button below:
Let us hear your opinion – what do you think about Trivita or affiliate marketing? Share with me your thoughts in the comment section below!
P.S. You Might Also Like:
What Does It Take To Be A Successful Affiliate Marketer
How To Build A Website In Under 30 Seconds