There are many MLM business opportunities that offer health and wellness products, each trying to outdo the others.
But one company is a step above the rest because of its company history and its products.
And I am talking about Shaklee.
In this review, we'll focus more on the "business opportunity" part of Shaklee. For those of you who have been following my website, you'll know that I always go deep below the surface to get you everything you need to know about any online money-making opportunity.
Honest, unbiased reviews – that is what you will find here.
And if you'd like to see an alternative, honest, and legitimate platform to start earning money online, then please click here.
---
Shaklee Summary
Product Name: Shaklee
Website: shaklee.com
Founder: Forrest C. Shaklee in 1956
Product Type: MLM
Price: $49.95 + $60 upward starter kit
Best For: MLM marketers
Summary: Shaklee is a network marketing company that sells eco-friendly health and wellness products. They have been around for more than 60 years and still growing strong. They have achieved multiple awards for their green culture and the quality of their products.
Different levels of membership are available and minimum sales of 100 PV (around $150) are required if you want to earn money selling Shaklee products.

Overall Ranking: 6/10
Recommend: Yes and No
---
What Is Shaklee

Shaklee is a direct selling company specialising in supplements and weight management products, its headquarter is in California, USA.
In this fast-paced era, new MLM is launching every other day with the same old marketing claims. But Shaklee has been around for more than 60 years, it is one of the trusted health and wellness brands in the MLM industry – definitely something worth looking into.
It all started in 1956 when the company was founded by Dr Shaklee and his two sons, Forrest Jr., and Raleigh, to produce high-quality nutritional food supplements. Four years later, Dr Shaklee began marketing organic, biodegradable cleaning products. The highlights of the products are "natural" and "environmentally friendly", ideas which were not common back then.
Back to the time before founding the company, Dr Shaklee was a chiropractor and nutritionist. He invented Shaklee's Vitalised Minerals in 1915, the first multivitamin in the United States.
After starting the company, Dr Shaklee was put in charge of the research and development. He created a protein-lecithin supplement called Pro-Lecin Nibblers, which is the first product of the company. His son Forrest Jr. handled accounting and managed the day-to-day operations of the company, while Raleigh, a former insurance salesman, was in charge of marketing operations.
Shaklee was eventually sold to an American multi-millionaire Roger Barnett, managing partner of Activated Holdings LLC and a Wolfson family member in April 2004 for $310 million. Roger Barnett has remained Chairman and CEO of Shaklee Corporation to this day.
Overall, this company works the same way as other MLM companies like:
How To Join Shaklee

Just like any typical MLM company, you can sign up under another Shaklee consultant. Else, Shaklee will allocate one for you. You will be someone else's recruit and be part of someone else's team.
Product Line
Before we take the plunge, it's important to familiarise ourselves with the product line Shaklee has to offer.
The company started off selling weight loss and nutritional products. Since then, its product line has expanded to skincare, water filtration, home essentials, and more.
While there are many other MLMs selling similar products, what set them apart is that they strive for being beneficial for humans and safe for the environment. They are well known for their commitment to being a green, eco-friendly nutrition company that practices sustainability. It is also known for its non-GMO policy and has officially offset its own carbon footprint. Other than being environmentally friendly, it is good to know that their products are actually backed by scientific papers.
One of their flagship products – Basic H2 Organic Super Cleaning Concentrate was the winner of the 2008 PTPA Award for being non-toxic, natural, and superconcentrated, with biodegradable surfactants and no phosphates.
According to their website, Shaklee product lines fall under the following categories:
Nutrition – Multivitamins, Life Shake, Protein Shakes, Prenatal Supplements, Cleanse and Detox Products etc.
Healthy Weight – Weight Loss Kits, Shakes, Meal-In-A-Bar Snacks, Metabolic Boost, Energizing Tea etc.
Beauty – Anti-Aging Collection, Hydrating Collection, Makeup, Accessories, Daily Care etc.
Sports – Performance Packs, Whey Protein, Energy Drinks, Electrolyte Drinks, Recovery Complex etc.
Green Home – Cleaner, Wipe, Dish Wash Liquid, Dish Washer Powder, Laundry Detergent, Water Filtration etc.
There are simply too many products under the Shaklee brand for me to list them down one by one, if you are interested in the full product range you can find them at the Shaklee website.
How To Make Money With Shaklee
Like many other MLM companies, you can make money with Shaklee by:
1. Selling their products and earning commissions. You get a personal website once you sign up to be their sales rep, You can refer your customers to your Shaklee website, and Shaklee will take care of the rest.
This works like affiliate marketing – you promote your personalised referral link and if someone makes a purchase through your link, you will get a cut from their order. Personally, I find this approach most appealing – no hard selling or face-to-face pitching. To help you get started promoting your links, here is a free course to guide you along.
Otherwise, you can also do it the traditional way – face to face selling.
This Shaklee guide gives you a glimpse of the percentage of time spent running this MLM business.
2. Recruiting people to access bonuses and higher commission

Cost To Join Shaklee
Shaklee offers 4 levels of membership:

Level 1: Customer (FREE)
Customers can buy Shaklee products at retail prices but cannot make money selling Shaklee.
Level 2: Member ($19.95)
Members can enjoy a 15%~25% discount on their purchases but cannot make money selling Shaklee. A one-time fee of $19.95 is required.
Level 3: Distributor ($49.95)
At this level, you can start making money by selling Shaklee's products.

To become a distributor you will have to purchase a starter kit, and you are given 3 options to do this:

Meology™ Prove It Starter Kit – Starting at $60+ $49.95 Business Starter Kit ($365 VALUE)
This kit includes a customised Meology personalized supplement plan, 2 Life Shake™ canisters of your choice, a free 7-Day Healthy Cleanse, and all essential business tools.
Prove It Starter Kit $159 + $49.95 Business Starter Kit ($340 VALUE)
This one includes a Vitalizer™ supplement strip,  2 Life Shake™ canisters of your choice, a free 7-Day Healthy Cleanse, and all essential business tools.
Business Starter Kit $49.95 ($82 Value)
Included in this package is 3 months of access to a personal website and essential business tools such as the mobile apps to manage your business, samples to share with family, and support plus training to get you started quickly.

Level 4: GOLD Ambassador ($299~$599)
To sweeten the pot further there is this additional level called Gold Ambassador. This level allows you to earn more commission (e.g. only Gold Ambassadors are eligible for GOLD, FastTRACK, and International Bonuses). It consists of 2 products:
GOLD PAK ($299)
GOLD PLUS PAK ($599)
That's not all…
Monthly Fee

In order to earn a commission selling Shaklee, you must be of Distributor rank or higher. As such you will have to accumulate 100 PV per month, which is equivalent to around $150 worth of product.
There is no monthly autoship requirement but again, you are highly encouraged to do so.
By setting up a monthly Loyalty Order of $100 or more between the 1st and 15th of the month, you get to be part of the  Loyalty Rewards program. You will earn points towards free products on your Loyalty Order purchases. If your Loyalty Order goes above $150, you will be eligible for the Loyalty Bonuses.
So let's do the math, $150 per month adds up to $1,800 a year, plus a  $49 – $208.95 starter pack, that adds up to around $2,000 a year.
Just remember we still have to factor in additional costs such as ad placement, postage and packaging costs etc.
Shaklee Compensation Plan
Like many other MLM companies, Shaklee has a complicated compensation plan.
I will try to lay it out as simple as possible.

Shaklee compensation plan works on a unilevel compensation plan, placing you as a distributor at the top of a unilevel team, with every personally recruited distributor placed directly under you (Level 1). When a level 1 distributor recruits new downlines, they are placed on your level 2 unilevel team; when a level 2 distributor recruits new downlines, they are placed on your level 3 unilevel team, the process goes on infinitely.
And Shaklee pays residual commissions up to 6 levels.
There are 9 ways Shaklee claims you can get paid:
Gold Bonuses
You earn $50 for each gold pack sold and $100 for each gold plus pack sold.
Power Bonuses
You get a $150 Power Bonus when you accrue 15 sponsoring points during your eligibility period. You can get a new three-month eligibility period whenever you increase in Business Leader rank.
Price Differential
This is the retail profit that you make on product sales. You purchase the products from Shaklee and sell it at retail price to earn the difference
Personal Group Bonuses
You earn a monthly bonus on the sales of products by you or your downline:
generate 250 PGV a month and receive a 4% bonus
generate 500 PGV a month and receive an 8% bonus
generate 1000 PGV a month and receive a 12% bonus
generate 1500 PGV a month and receive a 14% bonus
generate 2000 PGV or more a month and receive a 20% bonus
FastTRACK Bonuses
Starting with Director rank, whenever you advance to the next rank you get some extra bonuses.
Incentives
Incentives allow you to earn points towards exotic luxury trips and fabulous rewards sponsored by Shaklee. To qualify for incentives you must achieve
1. Dream Plan Director in your first year in Shaklee, and also achieve
2. A total of 18,000 Car Volume (CV)* within six consecutive months
Car Bonuses
To qualify for this bonus you have to achieve 3000 Personal Group Volume and personally promote a new First Generation Director. This reward offers you a bonus for a new car for up to three years. The amount of bonus varies depending on your rank.
Leadership Bonuses
To get this bonus you have to be at least a Director yourself and have a downline that is also a Director. You get to earn a monthly bonus on the volume of each Business Leader up to six generations under you, depending on your rank.
Infinity Bonuses
The Infinity Bonus allows you to earn beyond the first six levels of their unilevel team. It is a monthly bonus of up to 8% on the volume of all Leaders in your organization to infinity, based on your rank and the rank of your Leaders—beginning with the rank of Senior Coordinator.
Don't worry if you cannot figure out how does the compensation works, such structures are common among MLM companies. They cannot reward members directly for recruitment, as this will give rise to suspicion for pyramid schemes (more about this later). So instead, they offer rewards when your downlines achieve a certain sales volume. That's to encourage you to recruit and build up your team.
The various levels of rewards and dealerships also serve as a way to make the whole scheme look enticing and exciting. They make it looks like career advancement is great with many ways for you to make money.
To make things easy, just remember, the two most important thing to keep in mind when joining an MLM company is :
1. Sell the products
2. Recruit downline
Here is a walkthrough video of the compensation plan if you want to understand it in more detail:
Is Shaklee Pyramid Scheme
Despite some critics labelling Shaklee as a pyramid scheme, personally, I don't think so. Shaklee offers a wide range of products with raving reviews, and there are Shaklee's customers that are pure consumers, meaning they are not interested in the business aspects of Shaklee.
This is a good sign because the pyramid scheme is characterised by a lack of genuine products with a business model fueled purely by recruitment.
What Is A Pyramid Scheme?

According to Wikipedia, a pyramid scheme is a business model that recruits members via a promise of payments or services for enrolling others into the scheme, rather than supplying investments or sale of products.

As the recruitment progress, the structure soon becomes unsustainable due to the sheer amount of new recruitments needed to take place.  There simply aren't enough people to maintain the structure of the pyramid. As such, pyramid schemes are doomed to collapse and are deemed illegal by many countries around the world.

Due to the nature of MLM, there is a fuzzy line between MLM and pyramid scheme. Avoid any MLM that overemphasise on recruitment rather than selling the actual product. Legitimate MLM is focused on the product itself, not recruitment.

 
What I Like About Shaklee

1. Proven Track Of Record
Starting in 1956, Shaklee has passed the 60-year mark and continues to see strong revenues.
Very few MLM companies actually make it to the five-year mark, this goes to show that Shaklee has its unique selling point. Its sustainable business structure and eco-friendly products do appeal to the general public.
It is also comforting to know that they have not received any serious complaints or getting involved in any kind of scandal. Their good reputation preceded them.
2. Good Quality Product
Shaklee's products have garnered many positive reviews for the quality of its product. Many expressed their satisfaction with how the products help them personally, improve their health and general well being, or speed up post-surgery recovery.
Of course, we can't always trust every single review written, some reviews are probably written by the sales rep themselves.
So how to tell them apart then?
Here is a tip for you, always look at the chart and study the distribution of the reviews. If there are 2 peaks I.e. high positives and high negative reviews, then there is a high chance that many of those positive reviews are forged.
A distribution like this I.e. one peak at the 5 stars and the curve that naturally gets lower towards the end of the negative review, looks healthy and genuine.
3. Satisfaction Guarantee
Often time, people join MLM companies for the sake of making money. Some had barely even tried the products on their own!
When looking from this perspective, Shaklee is somewhat different. Shaklee offers different tiers of membership for their customers, not just for their distributors. There are people who had tried and tested Shaklee products, love it and never even bother about the money-making opportunity. This is what we are looking for in any kind of business – loyal customers that want nothing else except enjoy good quality products.
And Shaklee is aware of that, they truly stand for their products by providing a money-back guarantee if the desired result is not achieved.
4. A+ Rating From BBB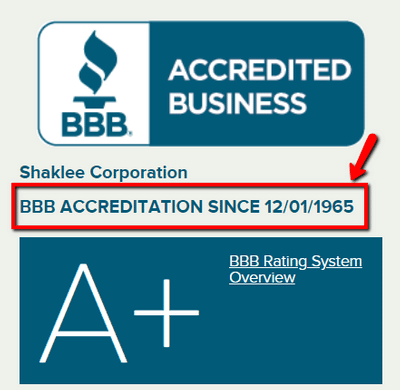 It is impressive for a company to achieve A+rating from the Better Business Bureau (BBB), not many companies are able to achieve that not to mention maintaining the grading.
Shaklee has been accredited A+ rating since Jan 1965, which goes to show the credibility of the company in terms of good customer resolution and support system.
5. Environmental Friendly And High-Quality Product
Shaklee is committed to providing high quality, natural and eco-friendly products to improve the lives of their customers, and they are actually backed up by scientific research.
Their products have been used widely by athletes or even astronauts. Shaklee worked with NASA to create a re-hydration product known as Astroade for fellow astronauts. (Source: PRNewswire)
That's not all, they are also the first company to be certified in completely offsetting their carbon footprint, with net-zero impact environmentally.
What I Don't Like About Shaklee

1. Recruit, Recruit, Recruit…
Now, I am not saying that they're a pyramid scheme. The difference between this company and a pyramid scheme is that Shaklee has products to sell.
However, their compensation plan has you recruiting a lot of people to get higher bonuses and commissions as opposed to just generating team retail sales. As you can see, almost 7 out of 9 ways of earning commission with Shaklee emphasising on the recruitment of additional distributors.
In other words, success hinges not only on your ability to sell the products but also on the size and performance of your downline.
Come on, we are all familiar with the drill – an old friend contacted you out of the blue, then this person is inviting you to a hosting party or asking you to watch an informative video of some sort. What hit next was the sales pitch – how you can live a carefree life while earning a side income.
It is unfortunate when someone pitches their network marketing business at the expense of their friendship.
I hate to say this, but most people newly involved with an MLM company have to get started from their close family and friends. If you want to be part of this, that's exactly what you have to do too. Do you have what it takes to put your relationship on the line?
2. No Income Disclosures
Any business venture involves risk. Before getting yourself involved, it is always best to exercise caution. Do your research and look for numbers on your odds for success. The hard numbers will show you whether to say yes or run for the hills.
As long as you understand the risk and can afford it, that's fine. But of course, never start a business where the odds of success are better at a Vegas slot machine – that's common sense.
So here comes the problem, Shaklee does not release any income disclosure statement. Without income disclosure, we can't do our math and can only make our wild guesses on the income potential.
3. You Have to Pay in Order to Receive Commission
To remain active as a Shaklee sales rep and receive a commission from Shaklee, you need to purchase or sell a certain amount of products every month to accumulate enough points.
It's 100 PV (around $15) every month, not really hard to achieve but if you fail to maintain the points, you won't be able to receive a commission if any.
In other words, you have to pay to get paid, it's that straightforward.
4. No Early Bird Advantage
Timing is an important factor in your success in the MLM business. To really flourish in the MLM industry, you need to join the right company at the right time. Too late and you will miss the golden period for growth that the early adopters enjoy.
There are many advantages of joining an MLM early on. For example, during the early stage, there is a mystique surrounding the opportunity because not many people have come to know about it yet. It is an exciting time to get involved!
While it is still possible for you to make it big later on, you will have to work much harder than you would have if you had joined early on.
---
Are You Cut Out For Personal Selling? It Is Not For Everyone
I got my leads every day without hard-selling.
---
Can You Really Make Money With Shaklee?
Overall, Shaklee sounds like a good MLM company to work with. It is still growing strong even after 60 years in business and has maintained a good reputation all along.
Personally, I like the idea that you get a personalised website. This allows you to use internet marketing as a business building tool. For those who are not a fan of face-to-face selling, having an online shop can be a game-changer. You simply need to learn how to drive traffic to your referral link, and your business is set to go. Here is a free course that I find useful to help you get started.
However, my concern is that without an income disclosure, it is hard to estimate your income opportunity with Shaklee. You can only make a blind guess, do your best and hope for the best.
I know MLMs are a tempting model because the startup cost is so low compared to many legitimate businesses. But we also have to keep in mind that due to the pyramid structure of network marketing, recruiters can earn from both their own sales and the sales of their downlines. Naturally, it rewards those at the top.
A common issue with MLM is that, in order to continue receiving commission from your downline, you have to keep on working, otherwise, you will lose the earnings of your current rank, or even the right to sell.
If passive income is what you are looking for, then this is probably not what you are hoping for.
It is easy to see how things can get complicated quickly – juggling between sales, and management of your team. It is by no mean an easy task. Far too often, I have seen many people get involved in MLM thinking that they can just get a few recruits and then sit back collecting money – now we know that it is far from the truth!
How I Make Passive Income Online
In my honest opinion, the best reason for joining any MLM company is when you really love a product, and you want to get your cost covered while making extra money.
If making money is your only reason for joining, forget about it. Losing friends, wasting time and energy is not going to make it worth the money you make. And the worst part, you are still technically 'employed', you build up nothing for yourself at all. If one day the company get busted, the downline that you have spent so much building will be gone in an instant too.
If you want to create an online business and learn how to make a full-time income, keep on reading because I have good news for you.
All these success stories you have read above come from applying one proven system.
There is no need for inventory, product creation, management of a team, or tapping into your personal network and proposition them to become your prospects. If it sounds good to you, find out more about this system here or click on the blue button below:
Let us hear your opinion – what do you think about Shaklee? Share with me your thoughts in the comment section below!
P.S. You Might Also Like:
What Does It Take To Be A Successful Affiliate Marketer
How To Build A Website In Under 30 Seconds