The network marketing business has grown tremendously in the last decade, every now and then we see a new MLM company pop up.
By far, health and wellness is one of the most popular niches and while there is a wide range of products, the main focus is always on promoting health. As people are enjoying a better lifestyle, and becoming more health-conscious, there is an ever-growing demand for health products.
Today, we're taking a look at one of the players, Eniva. Does it have what it take to be as big as the others?
In this review, we'll focus more on the "business opportunity" part of Eniva. For those of you who have been following my website, you'll know that I always go deep below the surface to get you everything you need to know about any online money-making opportunity.
Honest, unbiased reviews – that is what you will find here.
And if you'd like to see an alternative, honest, and legitimate platform to start earning money online, then please click here.
---
Eniva Summary
Product Name: Eniva
Website: eniva.com
Founder: Andrew Baechler, Benjamin Baechler
Product Type: Health and Wellness MLM
Price: Free To Join + $74.95 For Monthly BV + $74.95 For The Smart Order
Best For: MLM markets
Summary: Eniva is a health and wellness MLM that sells nutritional supplements, protein shakes, beauty care and lifestyle products. It has been around since 1998 and is headquartered in Plymouth, Minnesota, USA. It faced a bankruptcy issue in the past but managed to recover from it the following year.
Overall Ranking: 2/10
Recommend: No
---
What Is Eniva

Eniva is a direct selling company specialising in health and wellness products like vitamins, minerals, protein shakes, pet products, nutritional supplements and more.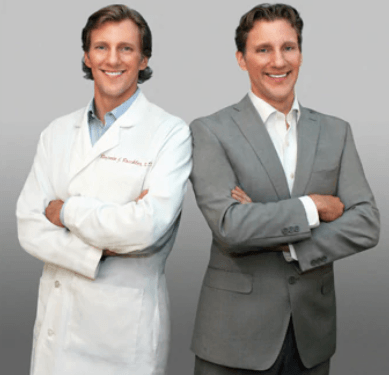 It all started in 1998 when the company was founded by brothers Andrew and Benjamin Baechler, with the vision of creating a global wellness community. As you probably can tell from the picture, the brothers are actually identical twins, with Andrew taking up the role of CEO and Dr Benjamin Baechler being the MD – Vice Chairman and Chief Medical Officer.
Eniva advocates natural, innovative products that allow people to experience nutritional outcomes. With the right nutrition, in the right form, our body can remain healthy.
To remain in control of the quality, Eniva manufactures its own products in a GMP Registered and Certified Dietary Supplement Manufacturing Facility, upholding high standards required to maintain certification over time, and they are also registered with the U.S. Food and Drug Administration.
However, for those who are concerned, do note that their products are not pasteurized, as Eniva believes that the process of pasteurizing and irradiating can diminish the nutrient integrity. Rather, Eniva makes an effort to produce in smaller, more frequent batches so the product remains fresh when you consume it.
Currently, Eniva is based in Plymouth, Minnesota. However, they have thousands of members around the country.
Some  of the proud achievements/ commitments by Eniva are:
Overall, this company works the same way as these MLM companies:
How To Join Eniva

Just like any typical MLM company, you cannot sign up Eniva on your own. You have to sign up under another Eniva consultant by providing the membership number of the person who is referring you. Else, Eniva will allocate one for you. You will be someone else's recruit and be part of someone else's team.
If you go to their website, they don't have much information on how to get started and what's the cost.
All they ask you to do is to get back to the person who introduced this opportunity to you – a very typical method used by MLMs.
Product Line
Before we take the plunge, it's important to familiarise ourselves with the product line Eniva has to offer.
Eniva has a huge product line that falls into the following 4 categories:
Vitamins & Supplements – Trace Minerals, Eye Health Vision Supports, Optimum Health Packs etc.
Protein & Fitness – Whey Protein, L-Glutamine Premium Amino Powder, JointZyme etc.
Beauty – Healthy Skin Bundle, Lip Balm, Facial Rejuvenating Mist etc.
Lifestyle – Cooking Oil, Omega 3-6-9, Smart Cooking Pack etc.
Eniva flagship product is their VIBE® (U.S. formulation) Liquid Multi-Nutrient Supplement. It has been specifically formulated to improve absorption and bioavailability due to the predigested nature of its pharmaceutical-grade liquid contents. It is also said to have a significant impact on free radicals generated in our bodies.
Extensive research has been done on VIBE which you can find here.
There are simply too many products under the Eniva brand, if you are interested in the full product range you can find them at the Eniva Product Page.
Or, you can watch this short video to get a general idea of the products Eniva offers:
How To Make Money With Eniva
Like many other MLM companies, you can make money with Eniva by:
1. Selling their products and earning commissions. You can get products at wholesale prices and then sell them at retail prices to make a profit.
2. Recruiting people to access bonuses and higher commission

Cost To Join Eniva
There are 2 ways for you to be part of Eniva:
Regular Customer (Free)
Customers can buy Eniva products at retail prices.
Eniva Member (Free)Simply create an account with Eniva and you automatically become an Eniva member. As an Eniva member, you get to shop for products and enjoy 25% off regular customer prices for life. You also can start selling Eniva products.
However, there is something worth mentioning…
Monthly Fee

In order to earn a commission selling Eniva you will have to accumulate 49BV per month. That's equivalent to around $74.95 or greater worth of product.
That's not all, there is this additional backup Smart Order that you need to fulfil which also amount to $74.95 per month.
So let's do the math, 2 x $74.95 per month adds up to $1798.9 a year.
And let's not forget we still have to factor in additional costs such as ad placement, postage and packaging costs etc.
Eniva Compensation Plan
Like many other MLM companies, Eniva has a complicated compensation plan.
I will try to lay it out as simple as possible.
Eniva compensation plan works on a unilevel compensation plan, placing you as a distributor at the top of a unilevel team, with every personally recruited distributor placed directly under you (Level 1). When a level 1 distributor recruits new downlines, they are placed on your level 2 unilevel team; when a level 2 distributor recruits new downlines, they are placed on your level 3 unilevel team, the process goes on infinitely.
There are 4 ways Eniva claims you can get paid:
1. Retail Sales
Eniva calls their sales rep a Team Member. As an Eniva team member, you get to purchase products at wholesale prices. You can then sell them to your customers at the suggested retail price and earn the difference.
2. Override Bonuses
There are four ways to earn an Override Bonus:
a. Eniva Wholesale Club
Enrol someone as an Eniva Wholesale Club Member and a one-time bonus of $25.
b. Get Three
Sponsor three Managers (need to fulfil a 49 BV/$74.95 SV order in the same month) into your team and get one-time product credit of $100.
c. Area Manager Builder Bonus
Help a Personally Enrolled Team Member to achieve Area Manager status and earn a $100 one time bonus.
d. Business Builder Packs
You get discounted pricing on Bronze, Silver and Gold Business Builder Packs.
3. Unilevel Commissions
Earn a commission down to the seventh level of your enrollment tree. How much you earn depends on the rank you are at.

4. Lifestyle Bonus
Build three strong legs under you to get additional bonuses. Depending on the achievements of your strong legs, you can get up to $200 Lifestyle Bonus, $500+ Car Bonus, and/or 3-10% Leadership Bonus.
As you can see below, Eniva Team Members are classified into eight levels of rank based on their total purchase volume and number of personally recruited members:
Manager
No minimum sales volume or downline is required.
Area Manager
Four personally enrolled frontline members, plus a minimum sales volume of $1,200.
Regional Manager
Six personally enrolled frontline members, two personally enrolled area managers, plus $2,500 minimum sales volume.
Senior Regional Manager
Six personally enrolled frontline members, two personally enrolled regional managers, plus $5,000 minimum sales volume. Your team should also have
Executive Regional Manager
To qualify as an executive regional manager, consultants must have six personally enrolled frontline members, plus $10,000 minimum sales volume.
Regional Director
Six personally enrolled frontline members, three personally enrolled regional managers and three regional managers, plus $20,000 minimum sales volume.
National Director
Six personally enrolled frontline members, four personally enrolled regional managers and four regional managers, plus $40,000 minimum sales volume.
Executive National Director to National Vice President
Eight personally enrolled frontline members, at least six personally enrolled regional managers and four regional managers, plus $65,000 to $2,000,000 minimum sales volume.
Don't worry if you cannot figure out how does the compensation works, such structures are common among MLM companies. They cannot reward members directly for recruitment, as this will give rise to suspicion for pyramid schemes (more about this later). So instead, they offer rewards when your downlines achieve a certain sales volume. That's to encourage you to recruit and build up your team.
The various levels of rewards and dealerships also serve as a way to make the whole scheme look enticing and exciting. They make it looks like career advancement is great with many ways for you to make money.
To make things easy, just remember, the two most important thing to keep in mind when joining an MLM company is :
1. Sell the products
2. Recruit downline
Is Eniva Pyramid Scheme
Despite some people labelling Eniva as a pyramid scheme, personally, I don't think so. First off, Eniva have some real products to offer. Their main focus is not on recruiting as they recommend people to become customer-first (In other words, it's product-oriented!). Also, you don't get paid by recruiting people. You get paid when there's a product being sold.


What Is A Pyramid Scheme?

According to Wikipedia, a pyramid scheme is a business model that recruits members via a promise of payments or services for enrolling others into the scheme, rather than supplying investments or sale of products.

As the recruitment progress, the structure soon becomes unsustainable due to the sheer amount of new recruitments needed to take place.  There simply aren't enough people to maintain the structure of the pyramid. As such, pyramid schemes are doomed to collapse and are deemed illegal by many countries around the world.

Due to the nature of MLM, there is a fuzzy line between MLM and pyramid scheme. Avoid any MLM that overemphasise on recruitment rather than selling the actual product. Legitimate MLM is focused on the product itself, not recruitment.
What I Like About Eniva

1. Proven Track Of Record
Founded in 1998, they have passed the 20-year mark in business. It is a known fact that very few MLM companies actually make it to the five-year mark. Eniva surely has its unique selling point that makes its business sustainable.
Eniva is honoured to have its products listed in the 2007 Edition of the Physicians' Desk Reference and is one of the few companies to have their natural products listed. VIBE is listed as having the highest certified Oxygen Radical Absorbance Capacity (ORAC) rating.
2. Good Quality Product
Of course, we can't always trust every single review written, some reviews are probably written by the sales rep themselves.
So how to tell them apart then?
From marketer to marketer, let me show you a tip – always look at the chart and study the distribution of the reviews. If there are 2 peaks I.e. high positives and high negative reviews, then there is a high chance that many of those positive reviews are forged.
A distribution like this I.e. one peak at the 5 stars and the curve that naturally gets lower towards the end of the negative review, looks healthy and genuine.
3. A+ Rating From The Better Business Bureau (BBB)
It is impressive for a company to achieve A+rating from the Better Business Bureau (BBB), not many companies are able to achieve that not to mention maintaining the grading.
Eniva has been accredited A+ rating, which goes to show the credibility of the company in terms of good customer resolution and support system.
What I Don't Like About Eniva
1. Recruit, Recruit, Recruit…
Now, I am not saying that they're a pyramid scheme. The difference between this company and a pyramid scheme is that Eniva has products to sell.
However, their compensation plan has you recruiting a lot of people to get higher bonuses and commissions as opposed to just generating team retail sales.
In other words, success hinges not only on your ability to sell the products but also on the performance of your downline.
We all know the drill – an old friend or acquaintance contacted you out of the blue, before long this person is inviting you to a hosting party or asking you to watch an informative video of some sort. What hit next was the sales pitch – how you can live a carefree life while earning a side income.
It is unfortunate when someone pitches their network marketing business at the expense of their friendship.
Expect yourself to exhaust your circle of friends and family with your sales pitch to try and convince them into the business for your own monetary gains.
After all, Eniva is a typical MLM company. You're required to do all the face-to-face selling to run this business.
2. No Income Disclosures
Any kind of business venture involves risk. Before getting yourself involved, it is always best to exercise caution. Do your research and look for numbers on your odds for success. The numbers will show you whether to go ahead or run for the hills.
As long as you get the risk and can afford it, that's fine. But of course, never start a business where the odds of success are better at a Vegas slot machine – that's common sense.
So here comes the problem, Eniva is not a public listed company, and they do not release any income disclosure statement. Without income disclosure, we can't do our math and can only make our wild guesses on the income potential.
3. You Have to Pay in Order to Receive Commission
To remain active as an Eniva sales rep and receive a commission from Eniva, you need to purchase or sell a certain amount of products every month to accumulate enough points.
It's $74.95 every month, plus additional backup Smart Order that you need to fulfil which also amount to $74.95 per month, not really hard to achieve but if you fail to maintain the points, you won't be able to receive a commission if any.
In other words, you have to pay to get paid, it's that straightforward.
4. Turn distributors into customers
This is a secret they don't want you to know.
Where do all the revenue of all these multi-million networking companies come from?
You will be surprised, in most cases that I have seen, the bottom-ranked distributors are the ones supporting the financial weight of the company.
In other words, your monthly auto ships, the sales target to meet, another rank or level to conquer – all these just to get you hooked up until you willingly pay to promote its products, pay to get into the game, even before you start earning any money!
Those companies save up on marketing expenses, while you pay to help them promote their products.
5. Eniva Lawsuit
In 2011, Eniva got deep into debts to the point of filing a Chapter 11 bankruptcy protection. Eniva was quick in action and was able to recover from bankruptcy the next year, after it outsourced multiple jobs and shifted to a smaller headquarters in Plymouth, Minnesota.
6. Traditional Network Marketing Strategy
I am not knocking it, there is something powerful about face to face selling – looking at your prospects in the eyes, observing their body language as you pitch etc.
However, with this pandemic going on, and the busy lifestyle that we all have, most people starting to shun away this type of marketing practice. You can spend hours pitching only to have people tell you 'Let me think about it' but never really get back. And now, imagine doing that 5 times a day, 150 times a month!
It is an inefficient and time-consuming way of building a business.
So why haven't Eniva ventured into online marketing? Maybe that's something worth considering, right?
Ideally, you should have a website where you can drive traffic to, and use technology to generate leads from the comfort of your own home, like what Usana is doing.
This is similar to how affiliate marketing works – you promote your personalised referral link and if someone makes a purchase or sign up through your link, you will get a cut of their order plus a new downline. Personally, I find this approach most appealing – no hard selling or face-to-face pitching.
If you are interested in network marketing, a combination of both strategies is what I suggest. The more avenues you explore, the more chances of winning!
To learn more about this approach, here is a free course to guide you along.
7. No Early Bird Advantage
Timing is one of the key factors to your success in the MLM business.
To establish yourself in the MLM industry, you need to get onboard the right company at the right time. Too late and you will miss the golden period for growth that the early adopters enjoy.
There are many advantages of joining an MLM early on. For example, during the early stage, there is a mystique surrounding the opportunity because not many people have come to know about it yet. It is an exciting time to get involved!
While it is still possible for you to make it big later on, you will have to work much harder than you would have if you had joined early on.
---
Are You Cut Out For Personal Selling? It Is Not For Everyone…
I got my leads every day without hard-selling.
---
Can You Really Make Money With Eniva?
Overall, Eniva sounds like a good MLM company to work with. It is still growing strong even after 20 years in business and has maintained an overall good reputation all along.
I know MLMs are a tempting model because the startup cost is so low compared to many legitimate businesses. But we also have to keep in mind that due to the pyramid structure of network marketing, recruiters can earn from both their own sales and the sales of their downlines. Naturally, it rewards those at the top.
In order to make money with Eniva, you have to keep on working to meet sales targets every month, otherwise, you will lose the earnings of your current rank, or even the right to sell.
If passive income is what you are looking for, then this is probably not what you are hoping for.
It is easy to see how things can get complicated quickly – juggling between sales, and management of your team. It is by no mean an easy task. Far too often, I have seen many people get involved in MLM thinking that they can just get a few recruits and then sit back collecting money – now we know that it is far from the truth!
How I Make Passive Income Online
In my honest opinion, the best reason for joining any MLM company is when you really love a product, and you want to get your cost covered while making extra money.
If making money is your only reason for joining, forget about it. Losing friends, wasting time and energy is not going to make it worth the money you make. And the worst part, you are still technically 'employed', you build up nothing for yourself at all. If one day the company get busted, the downline that you have spent so much building will be gone in an instant too.
If you want to create an online business and learn how to make a full-time income, keep on reading because I have good news for you.
All these success stories you have read above come from applying one proven system.
There is no need for inventory, product creation, management of a team, or tapping into your personal network and proposition them to become your prospects. If it sounds good to you, find out more about this system here or click on the blue button below:
Let us hear your opinion – what do you think about Eniva? Share with me your thoughts in the comment section below!
P.S. You Might Also Like:
What Does It Take To Be A Successful Affiliate Marketer
How To Build A Website In Under 30 Seconds